In the midst of my remote job searching through Indeed and Linked-in this September 2022, it appears an identity theft scammer made it through my job sifting.
What, wait how could this happen. I'm savvy when it comes to scammers. My graphic web design training usually makes it easy to spot the inconsistencies. Typically clients are calling me to ask if their domain bill is real. How did I fall for an employment scam. Well I did until I didn't.
Last week I received an email for a graphic design position at Lids Inc. from a Talent Acquisition Specialist at Lids named "Landon Sinnis," who said he saw my profile on Indeed.
[Insert letter here]
First, I went to Linked-in to see how this Lids recruiter checks out. Wow, Landon Sinnis looking good! > Here, see for yourself.
He looks legit wearing a Lids jacket and has a custom #hiring profile swoosh on his picture. The link under his photos says "LIDS Careers Page – Apply Here" and it links to the real Lids Career page. > Lids Career Page.
Okay, I'm almost sold. He's got 2,439 followers • 500 + connections. He also pays for the Premium Linked-in account indicated by the little orange 'in' logo on his profile page.
Let's check out his endorsements.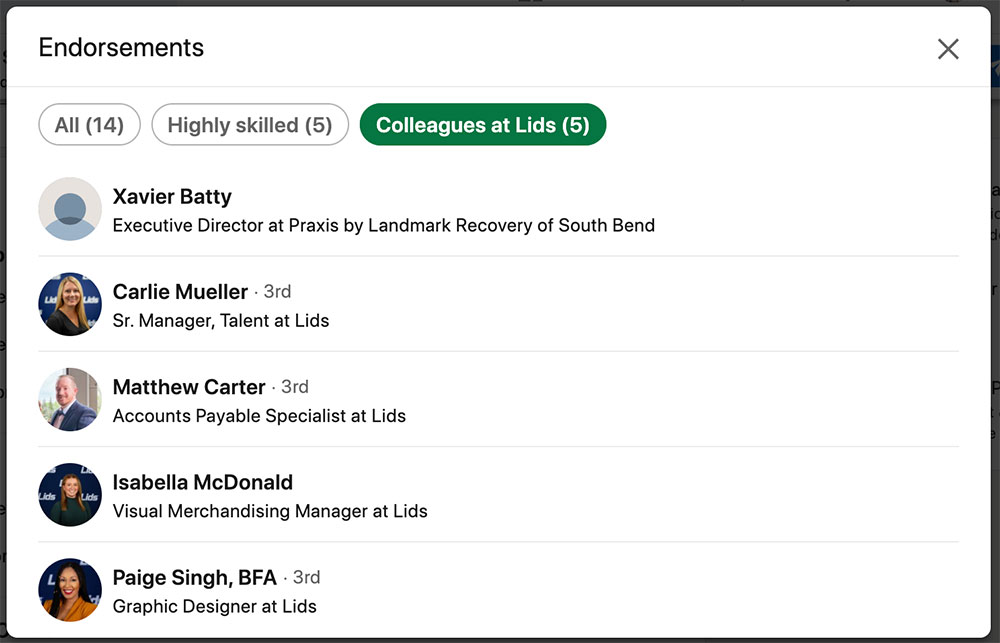 [Insert video recording here]
After reading a few endorsements I started to believe this was a legitimate recruiter and took steps to setup a time to talk.
We setup a time to talk via Skype. Figured it was going to be a video chat but after calling him at our meeting time, he wrote and said the questions were all written. Okay kinda weird but I guess that relieved my anxiety for the interview and went with it.
I did the interview. Got great feedback on my performance and this morning I was suppose to reach out again to see if I got the position. Well of course I did, but after that things got weirder. He wanted to mail me a check for my office setup and I knew something was off. I had heard of a few employment scams and that was a warning. Do not accept money before you have done something. Nothing could stop the unraveling now.
Thought it was a good idea to let Lids know, so we reached out to them to verify any of the contracts we received with their name and logo. A Lids representative responded "They have nobody currently to help – unless you're interested in ordering a hat, we can't do anything to help you."
The issue with this situation is the number of real Lids employees verifying the status of online recruiting scammers.
Social proof is important in today's culture, we look to it for confirmation, but what happens when the recruitment scammers go after corporate employees and make them believe they are real. The scammers use that endorsement from the real employee to garner the social proof they need to lay the ground work for such scams. The social proof and its' layers of lies makes the scam sophisticated.
I believe this issue now sits with the employer. In my personal case with Lids, they may say they are not involved, but they really need to be training their employees to "not verify" random people on recruitment sites because that gives them their social proof.
Yes, I have notified Linked-in this guy is a fake but his profile is still up.
Yes, we have contacted Lids through facebook, phone, multiple chats and email and have not heard back yet.
My intention for this piece is to broaden awareness to job seekers using these platforms.